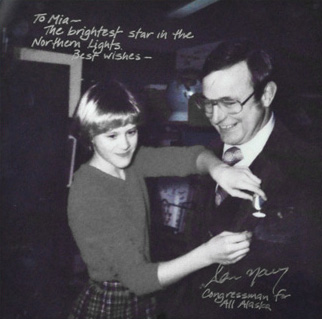 In 1978, Mia gives Congressman Don Young a tiger pin as student body president of her West Anchorage neighborhood school, Northern Lights ABC School.
Thanks for stopping by my website! I've been honored to serve as your State Senator in Juneau, where I've been hard at work fighting for our community.
Now, I am running for re-election to the Alaska State Senate to represent Senate District K. I'll need your help in order to keep serving West Anchorage in the Alaska legislature. Please explore my website for ways you can help. Together we can make sure our neighborhood has representation that matches our community values.
See where I stand on the issues that truly matter to you by visiting here, or by contacting me personally. I'd love to hear from you.
Stop by this website often for updates on my campaign, or sign up for our campaign newsletter by emailing me here.